Hariyali Murgh Masala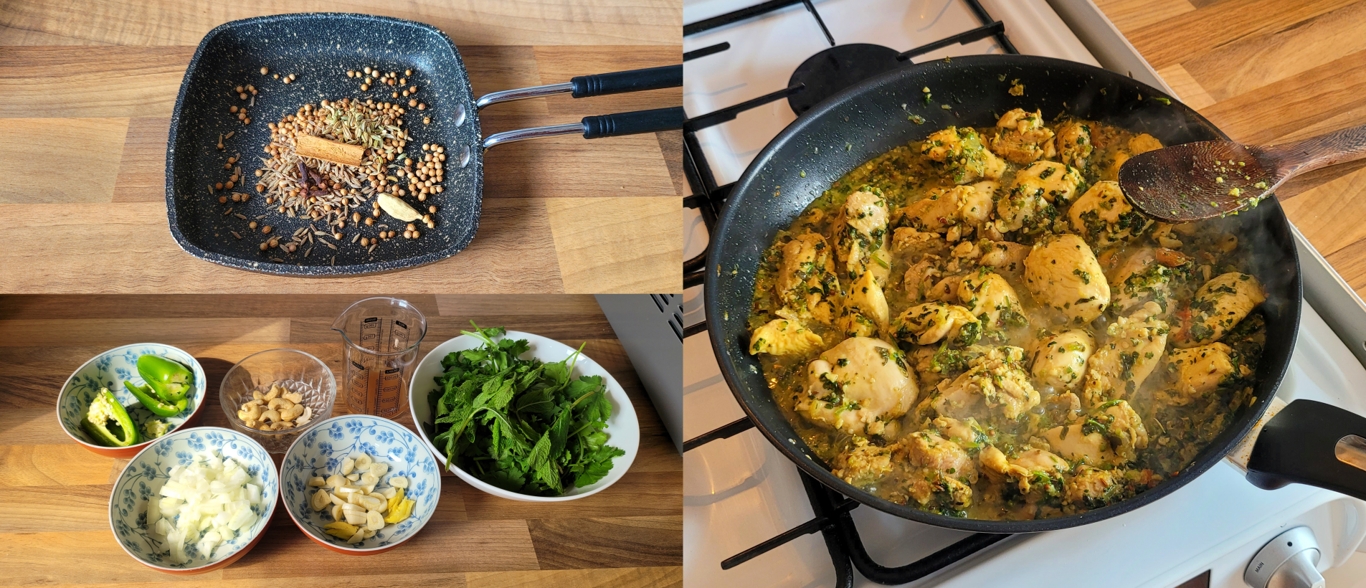 I've tested this, but here I'm recommending triple the tomato and onion and double the water in the 'cook' section than I actually used, as well as the addition of the birsdeye chillies for some heat. I haven't tested with these adjustments yet.
Serves 8. Adapted from here.
☑ TESTED
---
Ingredients
Dry Spices
3 tsp coriander seeds
1 tsp cumin seeds
½ tsp fennel seeds
35 mustard seeds
2 cardamom
5 cloves
1 cm cinnamon stick
Wet Spices
3 tbsp oil
2 shallots, chopped
8 cloves of garlic, chopped
3 cm ginger, peeled and squashed
4 jalapeño chillies
8 green birdseye chillies (adjust to spiciness preference)
15 g mint leaves
30 curry leaves (60 if dried)
60 g coriander leaves
½ tap tamarind paste
25 cashews
50 ml water
Main Stuff
2 tbsp oil
450 g white onion, chopped
100 g tomatoes, chopped
1.75 kg chicken, diced
1 tsp turmeric powder
2 tsp salt
100 ml water
To serve
---
Prep
Dry fry the dry spices until fragrant (~1 minute on medium), set aside
Now for the wet spices: heat up the 3 tbsp oil, soften the shallots (~5 minutes low-medium), then add the garlic and ginger, then the chilli, then all the leaves. Fry until the leaves wilt (~10 minutes on low-medium)
Blend up the dry and wet spices (including the tamarind, cashews, and water), set aside
---
Cooking
Heat up the 2 tbsp oil, add the shallots and tomatoes, fry on low until mushy (~10 minutes)
Add the chicken, fry until the chicken is sealed (~10 minutes on low-medium)
Mix the water, salt, and turmeric together, then add to the pan. Mix well, fry for a couple of minutes
Add the blended spices, mix very well, fry for about 15 minutes on low-medium
Serve with a couple of naans per person